RCP Replaces 20-Year Old System in Florida
Reinforced Concrete Pipe (RCP) provided the ideal repair solution for the ongoing failures of a private office park's 20-year-old HDPE pipe system. In July 2018, County Materials Corporation began supplying CrownPointe Commerce Park in Orlando, Fla., with more than 1,600 feet of 54-inch diameter RCP CL-3 manufactured per ASTM-C-76 National Standard. County Materials' RCP provided the benefits of strength and long-term durability for the office park, a 195-acre property originally developed in 1989. Currently, CrownPointe Commerce Park is home to dozens of owners and tenants, including FedEx and Two Men and a Truck, who utilize the space for office and industrial purposes, athletic training and more. With the new RCP system, CrownPointe tenants now have a system that drains effectively, isn't collapsing and won't cause holes in the pavement.
Plastic Failure
Poor drainage conditions and structural deficiencies in a 70-foot single run and 790-foot double run 54-inch diameter corrugated HDPE drainage pipe threatened the storm sewer's failure in the CrownPointe Commerce Park in early 2018. Engineers recommended removal of more than half the failing system and replacing it with concrete pipe.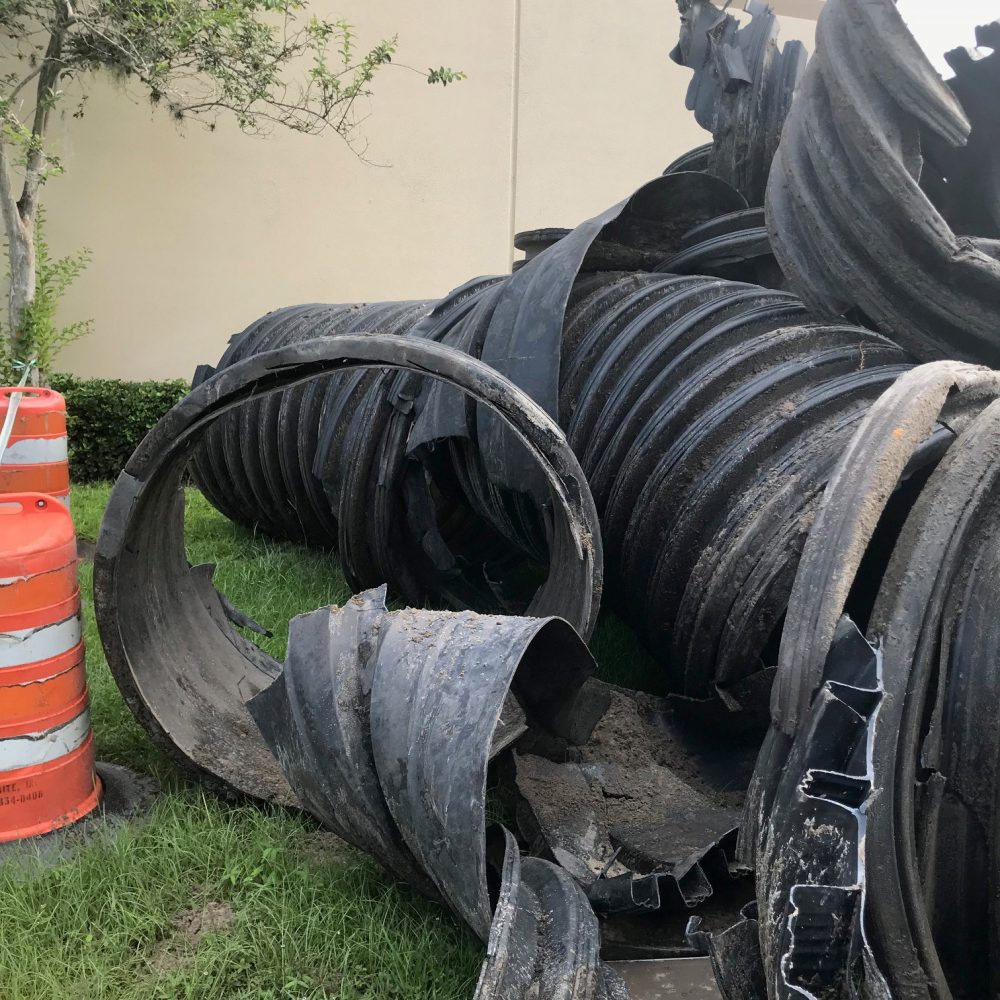 Excavated 54-inch diameter corrugated HDPE drainage pipe.
In one section of the failing pipeline, and only "if expedient measures are taken," the engineers gave the option of a structural liner or replacement with concrete pipe. According to the engineering analysis, the pipes were "FAILED" with one "active collapsed area."
Past problems at CrownPointe indicated issues underground. The alignment of the drainage easement traverses the parking lot of a warehouse occupied by a prominent moving company and a major overnight shipping company. A truck court occupies the easement where tractor-trailers park and maneuver into cargo bays. The overnight delivery company's employees recalled an incident in which a section of the parking lot collapsed, resulting in a "hole" beneath the truck cab's front tires during a cargo transfer operation. They did not report any injury or property damage, but the driver managed a shimmy-shuffle maneuver to extract the truck.
Original Design
The original drainage system was designed in 1998. The engineer's plans indicate the double run of 54-inch HDPE pipe had between 2.5 feet to 4 feet of backfill cover from finished grade to top of pipe. The current version of ASTM D2321 requires 54 inches of cover (one diameter) for 54-inch plastic pipe. Based on site observations during removal and replacement, the parallel spacing between the plastic pipes was approximately half a pipe diameter. The plastic pipe industry recommends 27 inches spacing between parallel 54-inch plastic pipes. For concrete pipe, spacing between parallel pipe runs is not of great concern because concrete pipe is less dependent on lateral soil support than plastic pipe. The Engineer of Record, however, and not a pipe vendor's generic table, is ultimately responsible for specifying the proper pipe envelope dimensions, soil types and compaction requirements to ensure a resilient structural system.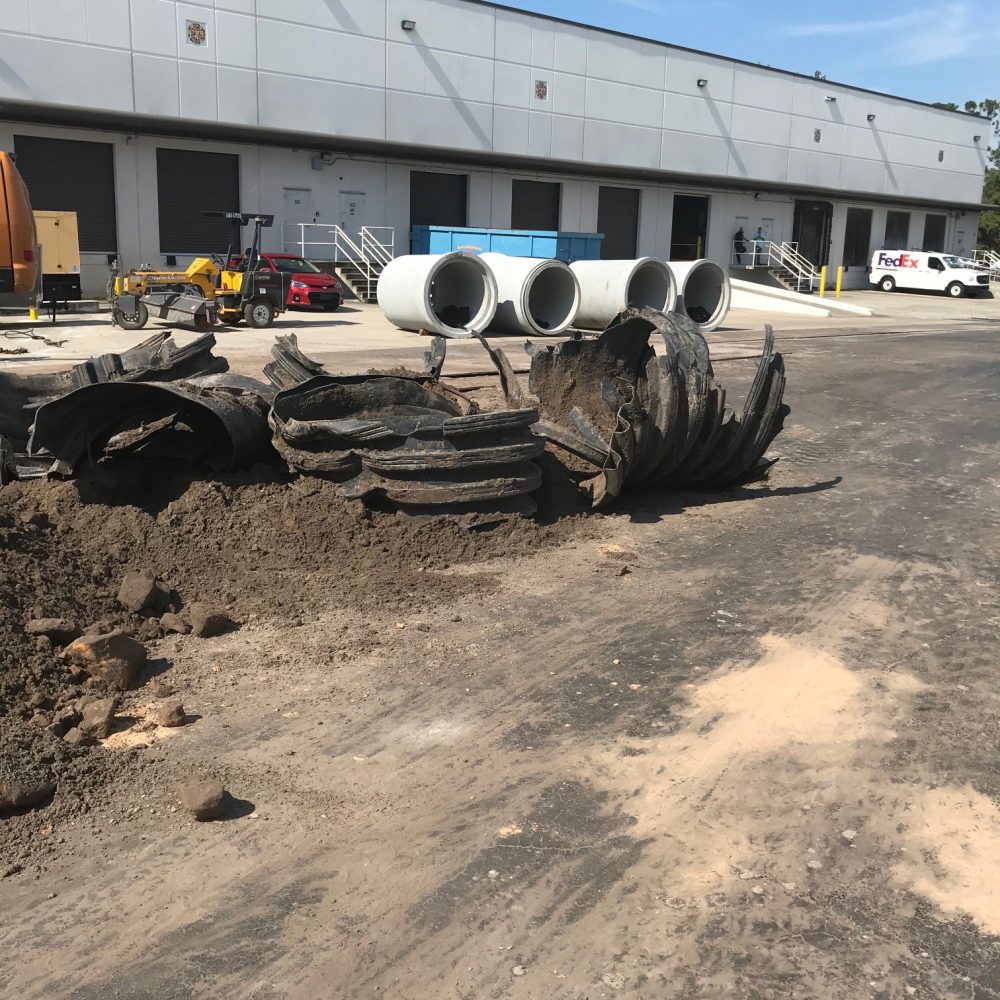 HDPE pipe being replaced with concrete pipe.
The type of plastic pipe in this failure could be considered an older version, and some in the industry may claim that "it's not made anymore." The pipe's corrugation profile appears rectangular and wide in shape and has corrugation or rib stiffeners, which resemble inverted corrugations within the primary corrugation crest. If and how these features contributed to the failure is unknown, but it is noteworthy that the pipe profile and diameter are rarely, if ever, seen in the current market. Whether or not the pipe product was experimental, re-tooled, or the installation not properly specified and constructed, will likely remain unclear. What is clear is the site owner was responsible for hundreds of thousands of dollars in repairs of a drainage system, in which the typical property owner would have blind faith in the engineer's specified drainage pipe material.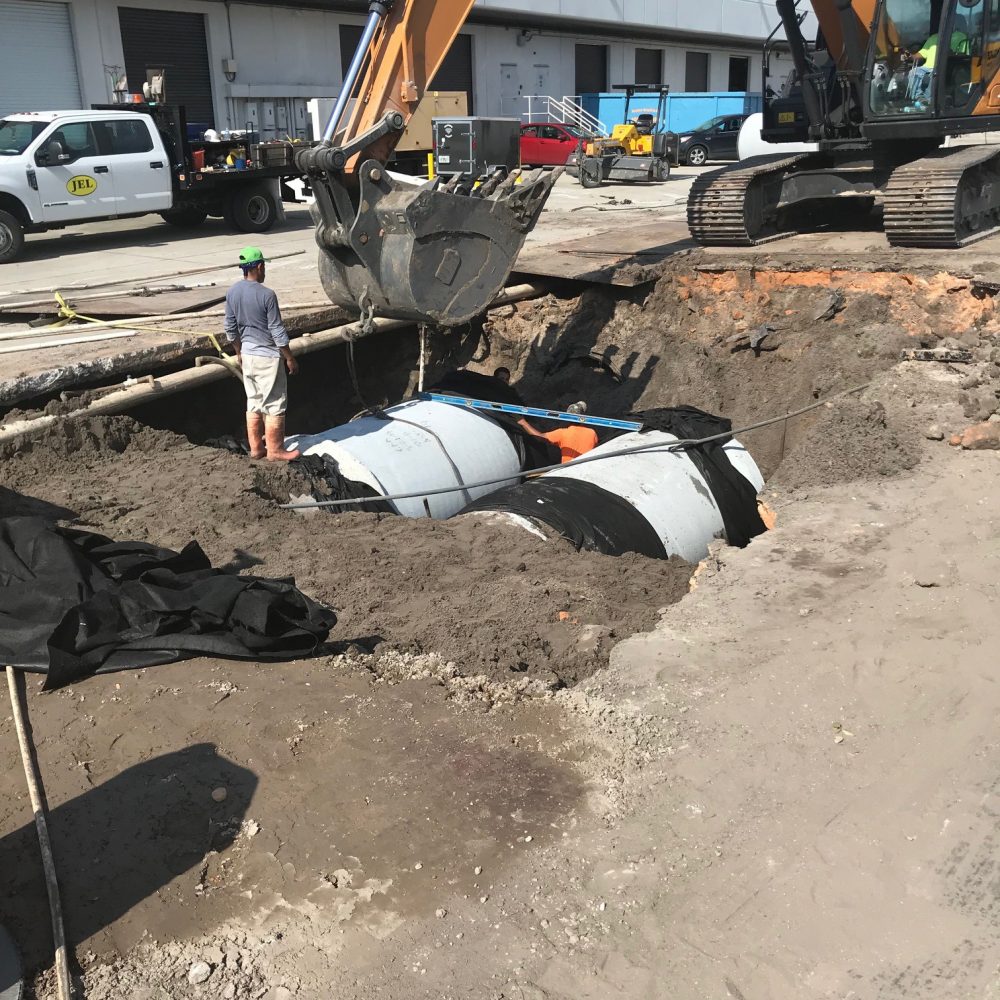 Double run 54-inch diameter reinforced concrete pipe.
In some cases, engineers try to cut costs for the owner by using plastic pipe rather than concrete pipe. Even though a product may have a lower initial material cost, it doesn't compare to concrete pipe's cost-effectiveness over the system's life when considering structural design, installation and maintenance – not to mention the safety of the community. In these times of fiscal responsibility, it's vital for engineers to specify concrete pipe.