ACPA Project Achievement Runner-Up Winners
Whether it's to handle standard drainage, unusually heavy loads or wide crossings, reinforced concrete pipe and box culverts offer the structural stability and design flexibility needed to get the job done. Each year, the American Concrete Pipe Association recognizes outstanding projects utilizing reinforced concrete pipe and box culverts through its Project Achievement Award. In 2019, the ACPA awarded Project NEON in Las Vegas with the year's top honor, followed by two runners-up: The Interstate 11 Boulder City Bypass and the Iowa DOT State Highway 4 projects.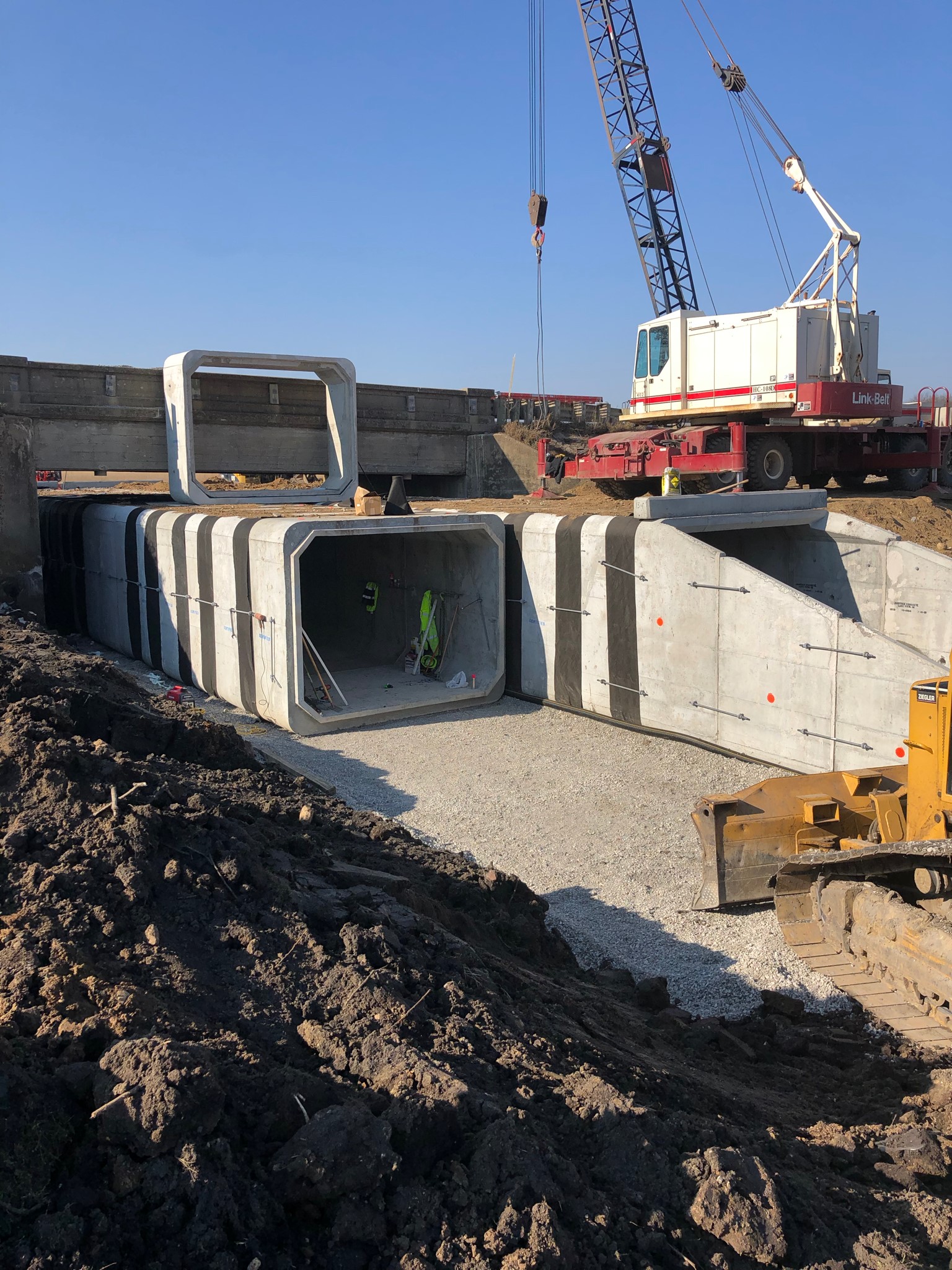 Box Culverts Allow for Heavy Loads on the I-11 Boulder City Bypass
Boulder City, Nevada, is known as the home of the Hoover Dam and Lake Mead. Locally, it's also earned the reputation of having heavy traffic congestion. For a town of only 16,000 residents, having more than 30,000 vehicles drive through U.S. Highway 93 daily was overwhelming — and dangerous.
The highway served as the primary route for traffic going between Las Vegas and Phoenix, often leaving weekend travelers and locals stuck in slow-moving traffic for hours. There was a critical need for a new north-south transportation connection, which led the Nevada DOT to initiate I-11 in 2015.
The Nevada DOT, in partnership with the Regional Transportation Commission of Southern Nevada (RTC) managed two different phases of the project simultaneously. The Nevada DOT oversaw Phase One, a 2.5-mile long stretch of the new interstate, while the RTC took charge of the remaining 12.5 miles in Phase Two. The project included a 1,200-foot-long, 28-foot-tall cast-in-place concrete retaining wall; a 600-foot-long, two-lane cast-in-place flyover bridge; and 10 other bridges laid atop 24-foot by 10-foot reinforced concrete box culverts.
Rinker Materials provided all the underground drainage for the project, including more than 180,000 linear feet of reinforced concrete pipe and 4,660 linear feet of reinforced concrete boxes.
"We used precast concrete box culverts because they allowed us to finish the project much faster," said Steve Nilforoushan, regional civil engineer, Rinker Materials.
The concrete box culverts will also provide added support for the load conditions of the new interstate, which is considered a vital link between Nevada and Arizona as it will likely lead to increased trade and commerce. The project also includes two all-terrain vehicle crossings, which will accommodate both motorists and freight haulers, as well as five concrete wildlife crossings up to 60 feet wide.
"When the project was announced in 2015, it was a big to-do as this was the first major interstate project in quite a while," Nilforoushan said. "With a project such as this, there is a lot of scrutiny, and the precast products were a huge success."
Although the three-year project was completed two months ahead of schedule, it had its fair share of challenges. Crews needed to excavate more than 8 million cubic yards of earth to install the large concrete pipes that are needed to convey the heavy monsoon storm flows. They needed to do this while managing a vigorous environmental program to protect the natural habitat as well as the safety of the workers.
Nevada DOT reports the new interstate will trim 30 minutes of drive time for those traveling between Las Vegas and Arizona. Traffic counts have dropped to an average of 20,000 vehicles daily on US-93, significantly reducing delays and dangerous conditions.
Contractor: Phase 1: Fisher Sand & Gravel ; Phase 2: Las Vegas Paving
Supplier: Rinker Materials
Owner: Phase 1: Nevada DOT | Phase 2: Regional Transportation Commission of Southern Nevada and the Nevada DOT Engineer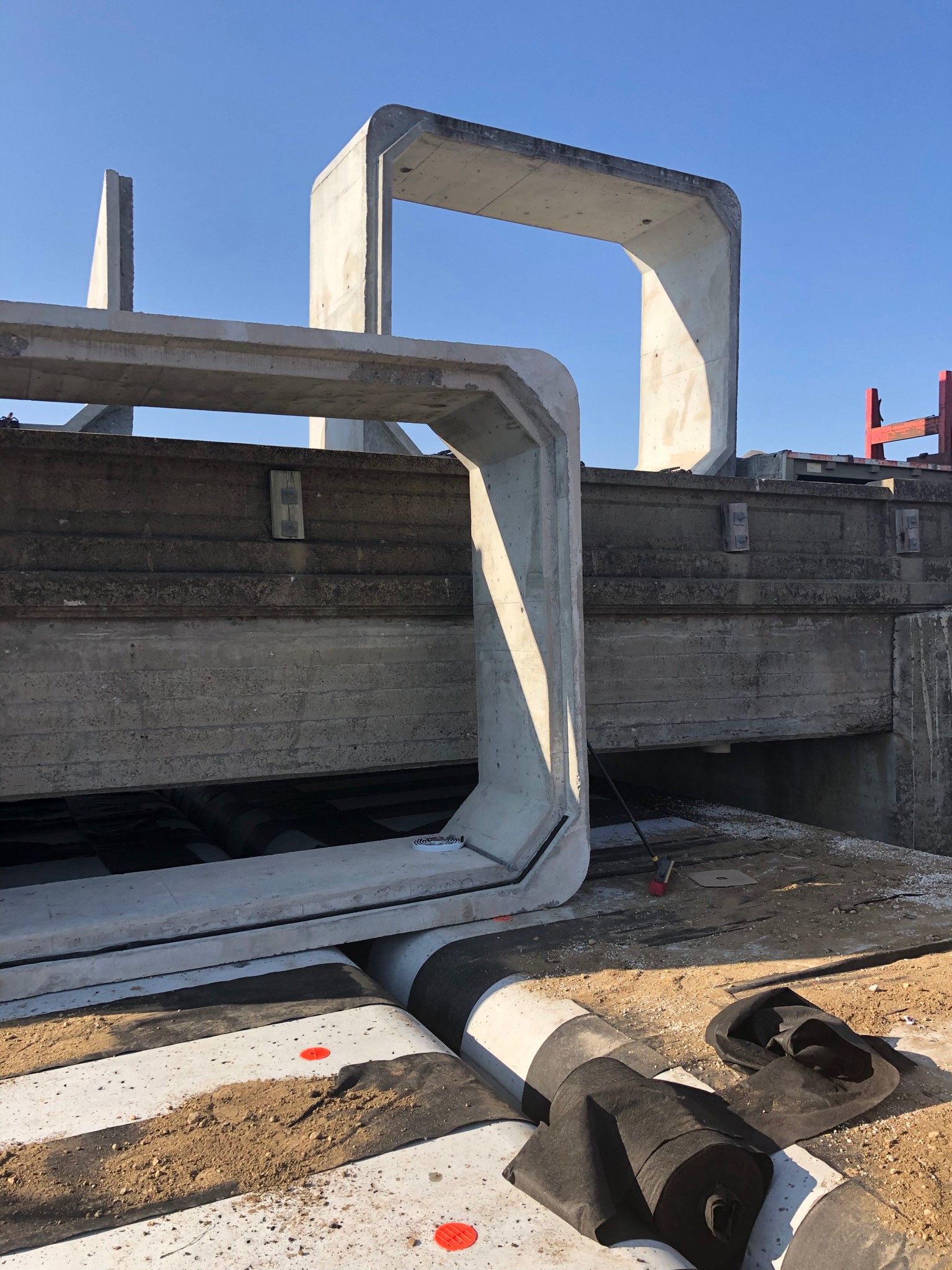 Box Culverts Accommodate Wide Loads on Iowa Bridge
Roadside guardrails are a familiar safety feature, especially on bridges. While they protect motorists from the vertical drop along a bridge's sides, guardrails themselves can create a safety hazard. There is typically little-to-no shoulder alongside a bridge's paved lanes, a situation that not only reduces available space for drivers to maneuver but causes the guardrails to be placed extremely close to traveling lanes, constricting traffic flow as it passes onto the bridge.
In rural areas, the problem is intensified. Shoulders can be nonexistent, especially on older bridges, and the prevalence of farm equipment carrying wide loads makes narrowing roadways especially dangerous. When the Iowa DOT faced this type of safety concern for a bridge on State Highway 4 in Palo Alto County (near Graettinger, Iowa), they deemed the bridge structure itself to be in good condition, making the expense of a complete bridge replacement undesirable. Fortunately, box culverts are a proven way to extend a safe, loadbearing surface adjacent to roadways.
Precast concrete box can be designed to meet structural design criteria outlined in the load and resistance factor design (LRFD) bridge specification, which was created by AASHTO. The code includes methodologies for pipe reinforcing, ensuring the pipe's adequacy for all in-service dead- and live-loading. For the State Highway 4 bridge project, two 12-foot by 9-foot precast reinforced concrete box culverts were positioned side-by-side underneath the bridge to extend the clear zone beside the pavement and create a berm.
Culvert installation took place in November 2018. During installation and guardrail removal, traffic across the bridge was maintained, preventing inconvenient road closures and detours. The two precast culvert boxes, each weighing approximately 28,000 pounds, were transported by truck to the construction site. During delivery, trucks occupied a single bridge lane (with the remaining lane open to traffic) only long enough for crane removal of the boxes.
The crane set each box directly onto prepared grade and attached them together at tongue-and-groove connection points. Water flowing under the bridge had previously been redirected using temporary piping, and a base was laid to support the culvert. Macadam (a large-grade stone, typically limestone, specified around bridges and culverts because of its ability to stabilize slopes and control erosion) formed the first base layer, with fine grading material placed on top.
Despite unusually wet weather, crews were able to position the box culvert under the roadway and cover it to the bottom of the bridge deck with flowable mortar within two weeks, before the end of the 2018 construction season. Guardrail removal was completed in spring 2019 to prevent working in icy winter conditions.
By installing a box culvert, the Iowa DOT created wider, safer driving conditions quickly and efficiently, without the cost of replacing the bridge itself. In a state where the economy is driven by agriculture, this is a boon to farmers who depend upon state roads as they travel from field to field.
Contractor: Midwest Contracting (Marshall, Minn.)
Supplier: Hancock Concrete Products
Owner: Iowa Department of Transportation
Engineer: WHKS Engineering
Learn more about ACPA's Project Achievement Award or nominate a project for our 2020 Award here.